A photo journal of my day yesterday here in Barcelona. ♡  (This post includes affiliate links.)
6:45am: Too early!!  Try as I may, I've never succeeded in turning into a natural morning person…
6:55am: …but this definitely helps. ♡  Iced pour-over, my absolute fave.
7:00am: Still at it with my early (online) Spanish tutoring  each Tuesday and Thursday.  A certain someone slept through the entire lesson, though. 😉
8:00am: Found this handsome man in the kitchen making his signature kefir pancakes.
8:10am: Desayuno time!  As they say here in Catalan, nyam nyam. ♡
8:25am: Getting an early jump on photographing today since these guys will need to "sun dry" in the oven for at least 4 hours.
9:00am: Post-vacay inbox catching up.
11:00am: Morning workout.  Feels so good to be getting back into this routine after a summer with lots of travel.
Also, yep, Henry's now in diapers.  Ever since he went blind, he started having increasingly more accidents.  So we a bit reluctantly pulled the trigger on diapers a few months ago.  And holy cow — game changer.  He doesn't seem to mind them at all, and we're all so much happier!
11:30am: Whew, that was a good one.  Time for a quick shower!
Noon: And…lunchtime.  Lol, well for us at least.  Most people in Spain don't eat until about 2pm.  But when we're working from home and have the option, I still much prefer to eat on an American schedule.  We were out of leftovers in the fridge and didn't want to cook, so this is our favorite "snack lunch" — hummus (with everything bagel seasoning) and veggies, plus apples and homemade PB (which Barclay's obsessed with making in bulk).  Always so good.
12:05pm: I also bid a fond farewell to the last of the smoky Nut Thins that I brought back in my suitcase from Kansas City.  They are my absolute favorite crackers (well, let's be honest, next to Cheez-its) and I've been trying hard to ration them out slowly over the past few weeks.  Very sad to see this box end.  Someone in the States please enjoy some for me this week!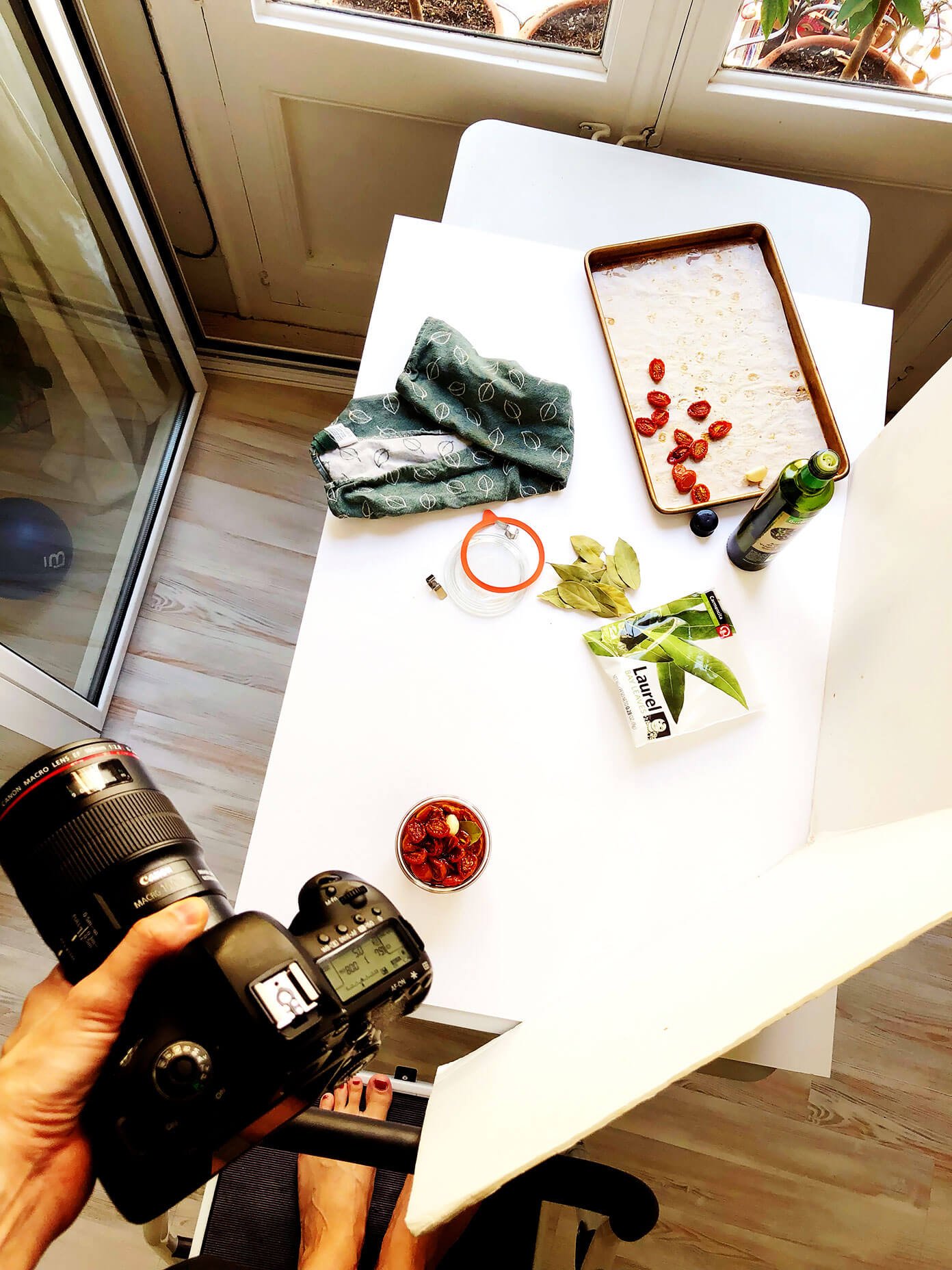 12:30pm: Back to work.  My oven "sun" dried tomatoes are ready to photograph…and so tasty!  I've never really been a big fan of eating raw tomatoes just on their own, but I can pop these little guys like candy.
Also, yes, laurel (bay leaf) is sold in larger bags everywhere here in Spain so that they leaves don't get broken!
2:30pm: Headed out for a quick bike ride uptown to check out another potential new apartment.  We're still on the house-hunting search here in Barcelona — either to buy or to rent — before our current lease expires this fall.  But the market here is crazy expensive and we haven't found anything yet that we love.  Maybe better luck today.
2:35pm: Lol, scratch that on the bike ride, it's nearly 90 degrees out and an uphill trek to this neighborhood.  Air-conditioned bus FTW!
3;00pm: I had really high hopes for this place after seeing the plans for it online.  But the sneaky rendering artist failed to disclose that the windows in the back of the house were completely blocked by a huge cement wall.  Ugh, can't do it.  This girl needs sunlight.  The search continues.
3:45pm: Anytime we're up in this part of town, we make a quick pass through this Asian market to grab whatever is on our list.  (We keep ongoing grocery lists on our phones just in case either one of us happen to be by this place, the Latin American grocery, or the American import store in Barcelona…lol, aside from our usual ALDI, fruit and veggie stand, and tiny neighborhood supermercat circuit.)
3:55pm: Asian markets are pretty much the only place in Barcelona where you can buy good green onions, sweet potato noodles (and rice noodles), sesame oil, and other southeast Asian ingredients.  I also snagged a new bottle of tamarind concentrate to make a batch of pad Thai this week.  Yum.
As always, we ended buying a few more groceries than expected (with no trunk space to stash everything)!  Lol, so Barclay headed home to drop off this batch of groceries, and I headed onto our neighborhood supermarket to buy some ricotta and kale to test out a new gnocchi recipe for dinner.
4:15pm: Bahhh, Spain.  Pretty much everyone takes off here for the whole month of August.  And as it turns out, the one store that I rely on to always carry ricotta has apparently decided to close for the month too.  Thus, the day's ingredient scavenger hunt commences.  (Story of our lives here.)
4:20pm: I couldn't remember if our new neighborhood ALDI carries ricotta, but they usually carry kale.  So I stopped by to check.
4:30pm: Double negative — no ricotta or kale (dangit).  I did take the opportunity for a quick stock-up on diced tomatoes while I was there, though, since they are strangely not available at any other stores near our house.  (I can easily find cans of whole and crushed tomatoes, but not diced can be elusive.)  Plus, I decided while photographing today that I wanted to have an extra jar of sun-dried tomatoes for the photos in an upcoming blog post.  So I stocked up on another batch of fresh cherry tomatoes while there to make another batch.  Also, a few cartons of heavy cream, which is sold shelf-stable instead of refrigerated in Spain.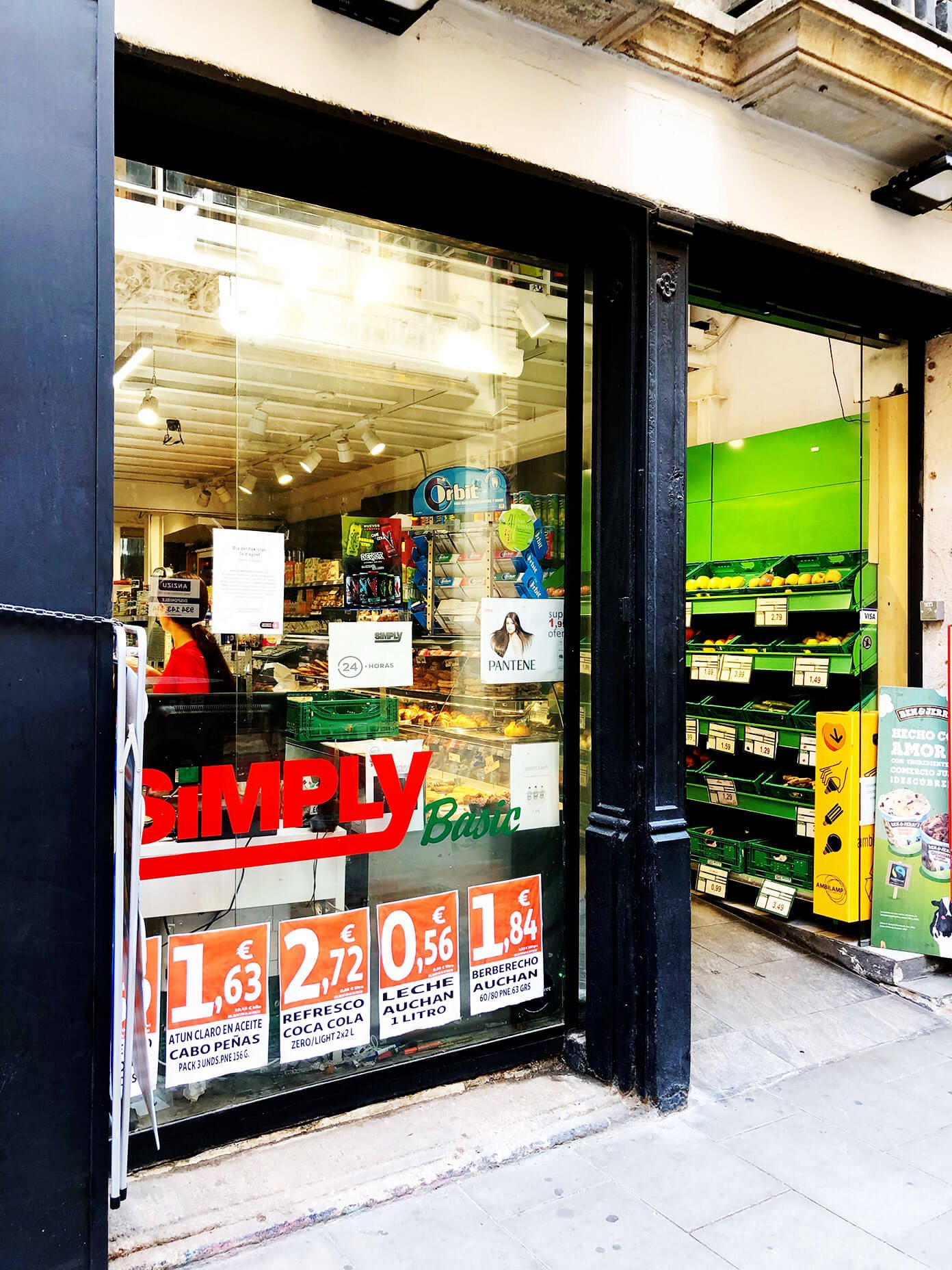 4:45pm: The kale and ricotta search continues.  Struck out again here.  (At least all of these stores are just a few minutes' walk apart.)
4:50pm: Also struck out at the fruitería in this part of the neighborhood.  This one isn't my favorite fruit/veggie stand to begin with (our usual fruitería is a 10-minute walk in the opposite direction), but they at least usually have the basics.  No kale today though.
4:55pm: However, while I was there, I went ahead and stocked up on some red onions since every other store in the neighborhood just carries "pink" onions, which are much more popular in Spain.  (See them up there in the photo?)
Lol, if you're sensing a trend here, you're right.  Grocery shopping for us here is an unending game of "welp, while we're here, we might as well pick up that one thing that particular store carries that we can't find anywhere else."
Onward.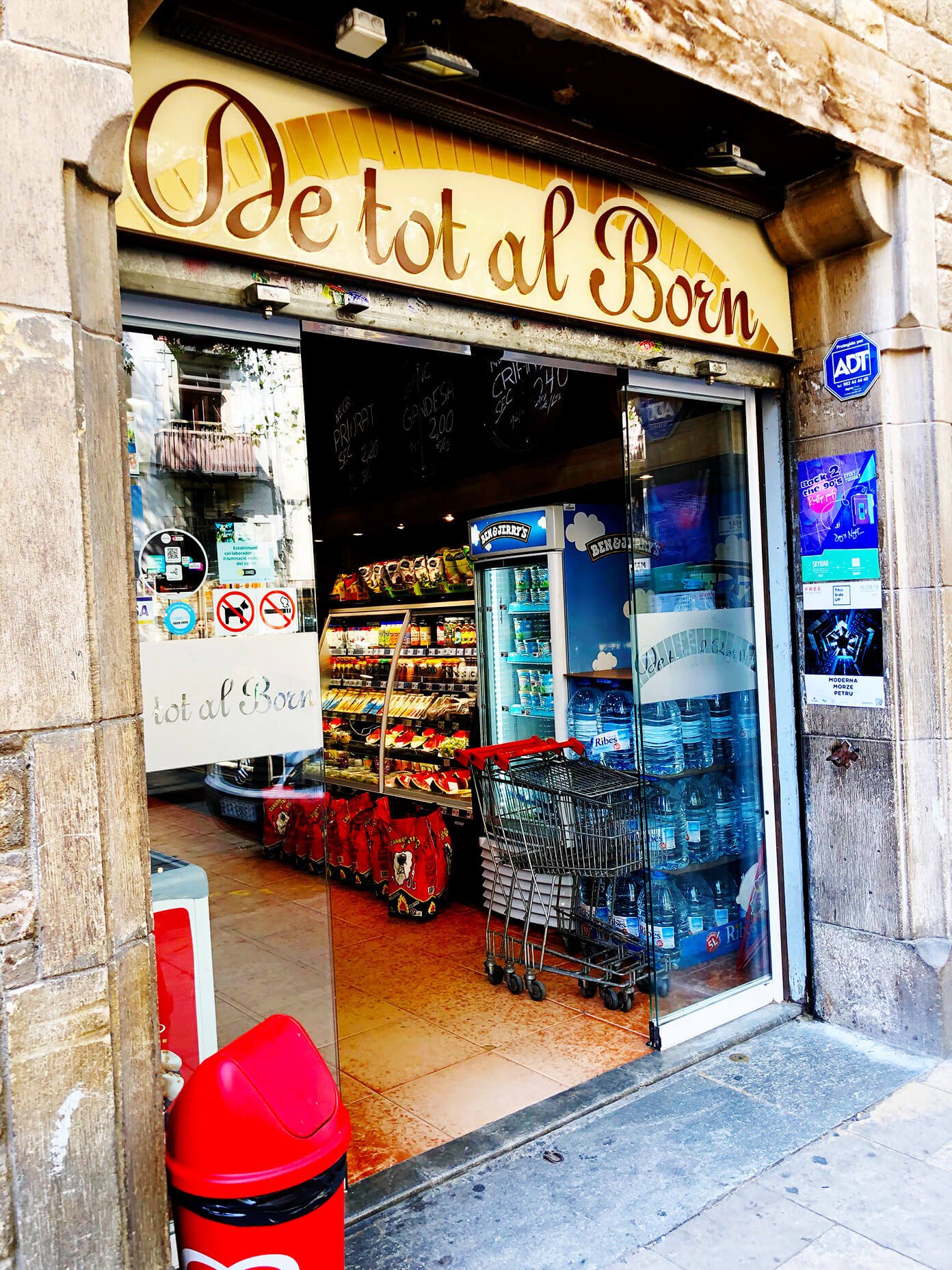 5:00pm: Finally, I tracked down some ricotta!!!  No kale here either, so I gave up and brought home some spinach.  C'est la vie.
5:15pm: "You're home!  You're home!  Belly rub, please."
Back to computer work for one more hour before dinner…
6:15pm: Finally, wrapping up the workday with some recipe testing, which will also double as our dinner tonight.  I've had so many of you make (and love, yay!) my new recipe for ricotta gnocchi.  So I've been wanting to develop another good sauce that you can make to go with it.  Tonight's experiment — a creamy, dreamy, tomato sauce with sausage and kale (or tonight, spinach).
With a side of Handmaid's Tale while I cook.  (Love this show so much, but whew, sometimes I need to multitask it with an activity that's a bit lighter.)
6:40pm: Note the sausage sprinkled on top for me, not my vegetarian husband. 😉  Holy cow, this was GOOD.  Recipe will def be coming on the blog soon.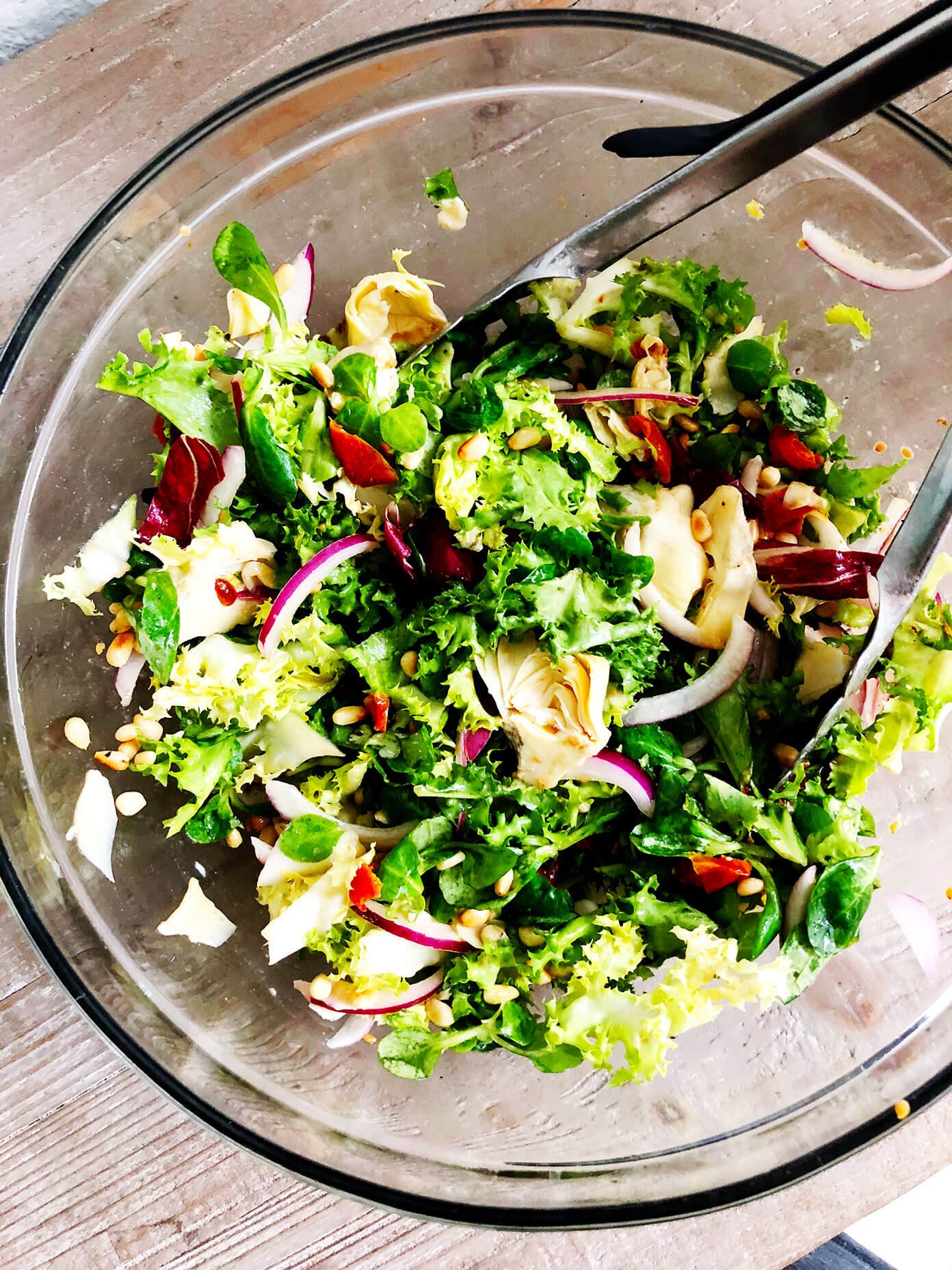 6:45pm: Also put some of those sun-dried tomatoes to use in our everyday salad tonight.  (Also, after all of my grocery shopping whining today, I should note that pine nuts are refreshingly cheap here in Spain.  So we use them often!)
7:45pm: Finally, a nice long walk around the barrio to end the day.
8:30pm: I love our neighborhood so much.
10:00pm: Skincare time.  I'm loving this mask lately from The Ordinary!  It's less than $8 and makes my skin feel amazingly smooth.  It goes on red, though, and looks pretty creepy on.  So sorry, no photo. 😉
10:15pm: I impulse-bought myself a new Kindle on Prime Day this past month, and I have to say that I am loving it.  Ever since my last Kindle Fire died a few years ago, I've just been using the Kindle app on my iPad to read books.  And while that totally works, I was getting increasingly tired of staring at a glowing screen at night when I was trying to unwind with a book (esp after staring at a computer screen for so much of my workday).  So a friend talked me into taking the Paperwhite plunge, and now I wish I had done it years ago.  Best $60 I've spent this month!  Plus, this little guy is so dang lightweight and fits perfectly in my purse.  And most importantly, it doesn't feel like I'm ending each day with screentime.  Love it.  And currently, loving Eleanor Oliphant too.
11:00pm: Buenas noches, everyone.  Sending hugs your way from Barcelona!